Filter by Category
Workforce Training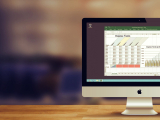 Advanced Excel 13
with Keith Hurd

May 6, 2019 at 4 pm
Increase your Excel efficiency with advanced skills for business or home applications. Some of the features you will learn include advanced formulas for manipulating data; linking workbooks and consolidating data across workbooks; creating and using pull-down menus and Excel macros in spreadsheets. You will become familiar with the "IF", "Look Up", and "Loan" functions. Registration limited to a maximum of 8 so register early! Prerequisite: Beginner Excel 13. Course is taught in our computer lab, but bringing your own laptop is an option. (Senior discount $42)
*6 Sessions meeting twice weekly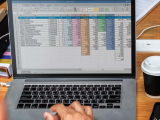 Beginner Excel 13
with Keith Hurd

Apr 8, 2019 at 4 pm
Whether developing spreadsheets for business use or home, this course will assist you in becoming proficient in the basic features of Excel. Learn to organize and edit data; enter and format cell contents; select cells and ranges; format print worksheets; insert and delete columns, rows, and cells; and create simple formulas and functions in a fun and relaxed environment. This course is ideal for the mid-beginning and beginner Excel user. Registration limited to a maximum of 8 so register early! Book fee $25. (Senior discount $42)*6 Sessions meeting twice weekly (NO CLASSES WEEK OF APRIL 15-19)
Registration Unavailable
Make a Great First Impression with a Powerful Resume and Cover Letter!
Price not
available
with Nancy McCallum

Apr 2, 2019 at 6:30 pm
Nancy will help you develop a strong resume and cover letter that's sure to help you land your dream job. You will learn how to select key elements from your work history and words that will make you stand out. It is important to evoke a strong image, revealing your strengths and transferable skills. No need to struggle! Bring a draft resume and/or cover letter – no matter how outdated – and let Nancy show you how to tune them up!
No charge but must call our office (207) 676-3223 to register.