Exercise & Outdoor Fun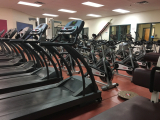 Fitness Center for a Total Workout
with SAM PANNIER

Jan 9, 2017 at 5:30 pm
, runs for 17 weeks
This is a complete personal training program! Receive assistance and coaching in both the cardio and weight rooms by our certified instructor. An individualized plan will be created with you to meet your fitness goals at no additional cost. Your program will be modified as you progress to the next level. $9.00 per week. Can't make all four nights a week? Purchase an eight visit punch card for $20.00 to personalize your schedule and workout. Senior and college student discount: $4.00 per week. No senior or student discount on punch card.
Registration Unavailable
Zumba Session 2
with Maribel Deprese

Mar 6, 2017 at 5 pm
, runs for 5 weeks
Join Maribel to help you take the "work" out of work out! She mixes low-intensity and high-intensity moves for an interval-style, calorie-burning dance fitness party. Zumba is a total workout, combining all elements of fitness – cardio, muscle conditioning, balance and flexibility. Wear comfortable clothes and shoes with little to no tread to reduce twisting on the knee joints. Join the fun and build strength while dancing. Drop in fee is $12.00. No senior discount. Mondays, March 6 - April 10, 2017 5:00 - 6:00 PM Knowlton School Cost: $45.00 per session; No senior discount.